HL7 International 3-Year Plan
Becoming the re-envisioned HL7
Our Foundation
Core Principles and 2022-2024 Strategic Goals
Focus
Advance the global adoption of HL7 FHIR, while maintaining other HL7 standards currently in use
Agility
Optimize HL7 processes and make HL7 more approachable and simpler to be engaged in
Global Relevance
Ensure all our products and services have global relevance and reach a global market
Community
Expand HL7 reach beyond our traditional communities to include implementers and consumers
Sustainability
Diversify and expand our funding sources to increase long-term sustainability of the organization
From Principles to Plan
From the Principles and the detailed Re-envisioning Task Force(s) Recommendations, we developed 10 overarching Strategies.
Leverage and expand the success of the HL7 FHIR Accelerator program
Increase quality, value, and reach of HL7 education offerings
Create a platform to enable discovery and testing of HL7 specifications
Empower patient participation and patient-awareness/friendliness of our standards
Work proactively in global outreach
Develop and execute a contributor engagement program
Extend our portfolio of standards advancement projects through external funding
Migrate legacy web platform to a modern content management system
Continue HL7's "flywheel" activities that perpetuate our momentum
Ride with us into the future…
Where are we headed? What does this HL7-of-the-future look like?
Well, imagine us together 3 years from now, and we'll be able to say:
We are a vibrant, diverse, global and continuously-welcoming community
We have a place to understand and test every HL7 Implementation Guide
We have a complete portfolio of role-based courses and certification tracks
We have a network of training partners
We have an active portfolio of grant/contract funding complementing other revenues
The robust HL7 FHIR Accelerator program catalyzes standards development and use
The future is becoming the now…
Updates on our progress and activities to fulfill these strategies
Update on HL7 3 Year Plan Progress (2023 09)
Overview of the HL7 3 Year Plan (2022 09)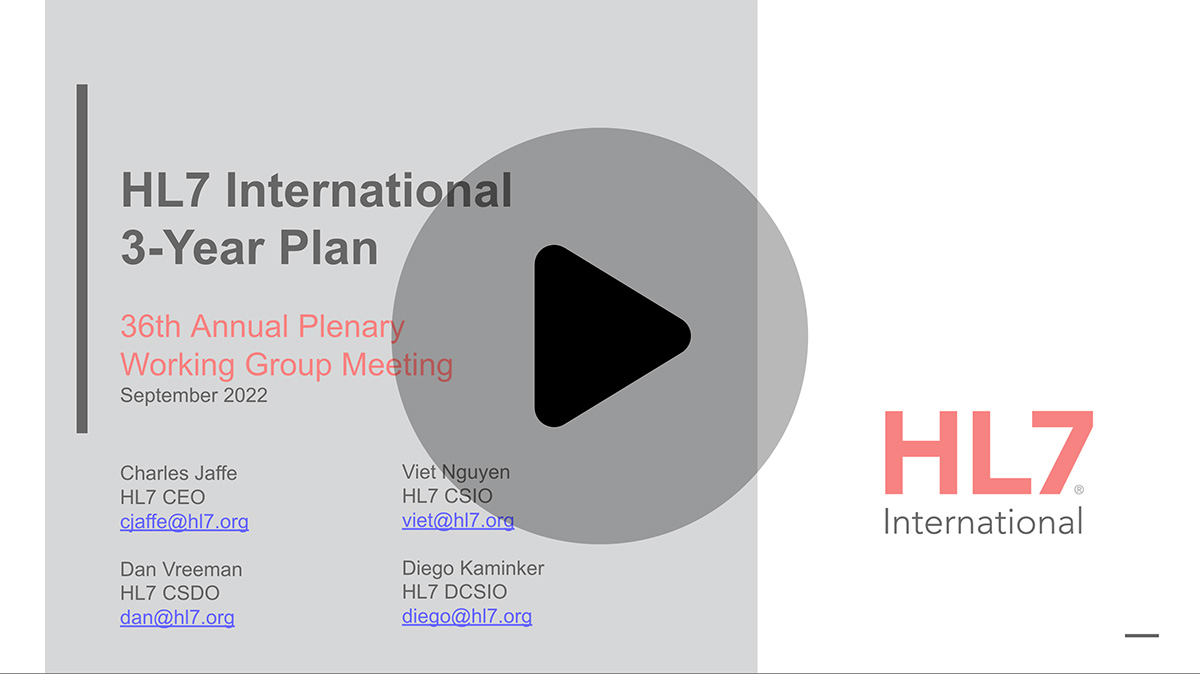 10 Strategies for Becoming the Re-envisioned HL7
The techniques to take us into the next epoch.
S01. Leverage and expand the success of the HL7 FHIR Accelerator program
HL7 Standards Implementation Division (Viet Nguyen)
Program Management
Based on the best practices learned through our experience, we will develop a standardized and sustainable Accelerator Blueprint as the model to grow our community and support the adoption of FHIR around the world.
HL7 will offer contract program management services for new and existing accelerators that support the entire lifecycle of a program, including:
Pre-Initiation Phase
Identify and engage potential participants
Assess feasibility of program
Formation and Initiation Phase
Establish:
Membership model
Governance structures
Operating principles
Policies
Operational and Growth Phase
Educate stakeholders
Support standards development activities and goals
Onboarding members
Financial planning and oversight
Contracting
Anticipated Outcomes
Establish and apply the Accelerator Blueprint as the model for going from a nascent idea to a thriving group
Increase revenue through the HL7 FHIR Accelerator program by adding new groups and efficiencies to existing ones
Expand the portfolio of Accelerators by proactively pursuing new domains through outreach
Increase HL7 membership by demonstrating its value to HL7 FHIR Accelerator participants who are not yet
S02. Increase quality, value, and reach of HL7 education offerings
HL7 Standards Implementation Division (Diego Kaminker)
Education
We will create new education programs to increase the value (through credentialing), volume (through partnering) and quality (through certifying education providers) of HL7 Education
HL7 will pursue this strategy through 3 complementary educational programs:
HL7 FHIR Credentialing
We are expanding our existing FHIR credentialing program with two new tracks for developers and architects that will help you achieve industry-recognized levels of expertise in the transformative HL7 FHIR standard. Increase your career opportunities and stand out from the crowd by becoming FHIR proficient.
HL7 FHIR Certified Education Provider (CEP) Program
The CEP program recognizes educators who demonstrate excellence as both HL7 FHIR subject matter experts and instructors. The CEP evaluates applicants, trains educators, and supports their need to maintain their expertise. Trainees taking courses from certified educators can be confident that their educators are at the top of their game.
HL7 Partnering Program
Through this new program, HL7 will establish partnerships with organizations that share our passion for creating and delivering FHIR education. Through a global framework for revenue sharing and criteria for achieving partner status, we will diversify, expand, and sustain the availability of high quality FHIR training worldwide.
Anticipated Outcomes
HL7 FHIR Credentialing Program: Increase the value for developers and analysts by improving their employability, and for contracting organizations because they have a recognizable marker by which to evaluate new hires
HL7 FHIR Certified Education Provider (CEP) Program: Increase the value for participants through recognized expertise of their educators
HL7 Partnering Program: Increase the value for the industry by expanding training opportunities, and for the Partners because of HL7 evaluation and further co-branding or recommendations (link from our pages)
S03. Create a platform for discovery and testing of our specifications
HL7 Standards Implementation Division (Diego Kaminker)
The FHIR Foundry
We will create an open ecosystem platform, called the FHIR Foundry, where anyone in the world can discover, test, try, and install for themselves working reference implementations of the HL7 specifications.
Building on the success of FHIR sandbox environments, we will create an integrated environment for the global community.
Reference Implementations
Find, use, and combine reference software implementations for client apps and servers that implement various HL7 FHIR specifications.
Sample Data
Leverage robust sample data to test specifications across their range of functionality, free from the security or privacy concerns of protected health information. 
Test Scenarios
Run and evaluate test scenarios natively in the ecosystem or on other platforms like Inferno or Touchstone.
Anticipated Outcomes
Outreach and Discovery: The FHIR Foundry will be the recognized place where anyone in the world (including those with limited technical skills) can find and try out all of the reference implementations for FHIR specifications.
Continuous Testing: Beyond Connectathons and dedicated events, the FHIR Foundry will enable implementers to tests client applications and servers against reference implementations and test engines with robust sample data at any time.
Increasing Standards Development Rigor: Over time, the expectations of HL7 standards development will mature to include the development of reference implementation software deployed in the FHIR Foundry as part of the Quality Assurance and Publication processes.
S04. Pursue new communities
HL7 Standards Implementation Division (Diego Kaminker)
Outreach
We will proactively reach new communities and leverage opportunities in the industry. Our first focus will be creating events featuring networking opportunities and new content tailored for our growing audience.
We endeavor to reach new communities, foster new uses of our standards, and connect with more people who are implementing our standards but are not involved in standards development activities.
FHIR in the Clouds: Cloud Computing
In this new virtual event participants will have an introduction and practical overview of the capabilities of FHIR offerings from major cloud technology vendors. Through hands-on activities with a real life scenario, including common tasks for the implementation of a FHIR-based exchange, participants will experience the power of FHIR as a service.
FHIR - The Future of Interoperability. Now!
In this ten-session webinar series, healthcare executives, clinicians, policy makers, and others will learn how FHIR is transforming the way health data can be shared, understood, and used across different health IT systems. 
FHIR Data Science Institute @ HL7
This 3-day virtual event provides an overview of how to use FHIR to extract and understand data for research and AI processing. Participants will learn the FHIR family standards for a learning healthcare system, including specific tooling for data science and research. Then, in a half-day hackathon, participants will form groups to solve clinical research challenge with ML that involves using Bulk FHIR access to data.
AMIA/HL7 FHIR Applications Competition
The competition highlights the best and most innovative FHIR® client apps. Welcoming entries designed for clinicians, patients, care team members, public health or other users, AMIA and HL7 want to showcase apps that address pressing problems with innovative FHIR-based solutions. If you would like your software to get critical review and exposure, this is the event for you!
Open Data on FHIR
This virtual Open Data Summit brings together the academic, standards, and vendor communities to explore how synthetic and other open data can be used in standards development and testing without the security or privacy concerns of protected health information. Informatics and data science leaders will collaborate and discuss the landscape of synthetic data repositories and tools and how they can be tailored to address the standards development community need for data to advance FHIR education, testing, and adoption.
Cybersecurity for FHIR
This event will focus on best practices for securing FHIR APIs and client applications to prevent unauthorized access and misuse.
Anticipated Outcomes
Outreach: Through these new events we seek to expand interest in HL7's standards to a broader audience
Implementation: Focusing on key uses, innovations, best practices, and widely available tools, these events help support the implementer community
Standards Advancement: By expanding HL7's audience we will bring new people and perspectives in the standards development community and help bridge the gap between standards development and implementation
S05. Empower patient participation and patient-friendliness of our standards
HL7 Standards Implementation Division (Diego Kaminker)
Patient Empowerment
We seek to reinforce HL7's commitment to proactively involve patients and caregivers in the full life cycle of standards development and implementation. HL7's vision is broad – for everyone to access the health data they need when they need it – and we want to underscore the importance of their participation and perspective throughout the process, including work on use cases that support active creation, access, and use of one's own data.
We want to broaden patient participation in the HL7 community to help ensure that our standards meet the needs for information use for individuals and sharing among others (with care providers, patient communities, extended care team members, etc).
We welcome participation in the technical work of standards development and implementation. We also recognize the need for educational content that helps patients and services providers understand the benefits of interoperability for their experience in the health system and their quality of life.
Our initial focus will pursue these main activities:
HL7 Patient Pledge
We will collaboratively develop a community statement to serve as our guiding principles for inclusion and respect for patient participation in HL7's standards development and implementation activities.
Patient-focused Specification Traits
We want to feature the ways in which HL7 specifications benefit patients directly. In the structure of the specification, we will enable a summary of benefits written in lay language, as well as specialized sections to highlight implications for patient access, control, and collaboration.
Expanding Membership and Participation
We will develop new ways to support participation in HL7 activities and events. For example:
Sponsored patient participation at HL7 events
Allow Provider members to nominate (complementary) patient members
And more
Patient Empowerment Event
This new annual special event will highlight how health IT innovations using HL7 standards are advancing patient empowerment.
Anticipated Outcomes
Expanded participation of patients and representation of patient interests in HL7 activities
Enhanced patient-friendliness of HL7 specifications
S06. Work proactively in global outreach
HL7 Standards Implementation Division (Diego Kaminker)
Truly International Reach
We aim to improve the vitality of our affiliate network and expand our partnerships though deliberate outreach, targeted communication, and developing shared services available for use in their local programs.
We will continue to strengthen our relationships with the HL7 Affiliates and Global Goods organizations, enabling better adaption and adoption of programs to improve implementation of HL7 specifications worldwide.
To achieve these aims, we will:
Best Practices Playbooks
We will develop playbooks to help implementers go "from the spec to the wire" as expeditiously as possible, we topics such as:
Mapping HL7 V2.x to FHIR
Mapping CDA R2 to FHIR
Implementing FHIR At Scale for Low or Middle Income Countries
Regional Partnerships
We will create a model for engaging with regional partner organizations in areas like Africa and Central America/Caribbean where HL7 presently lacks Affiliates.
Strengthen Affiliate Relationships
We will continue deliberate efforts to enhance the mutual benefit of HL7 International and its Affiliates through regular communication, improving the usefulness of the Affiliate reports, and working proactively to involve Affiliates in the emerging Standards Implementation Division activities so they can adapt or adopt them.
Grow Relationships with International Organizations
We will continue our work to grow our relationships with international organizations with shared goals, including the World Health Organization (and Pan American Health Organization) and Integrating the Healthcare Enterprise.
Adopt Principles for Global Participation
We will develop and adopt a set of principles to improve global participation.
HL7 Board of Directors
We will seek to implement the inclusion of additional Affiliate representatives to the HL7 Board of Directors, as allowed by our Governance and Operations Manual.
Anticipated Outcomes
Strengthened existing Affiliate relationships and new Affiliates added
Regional partnerships serving as incubators for deepening the knowledge and interest in HL7 standards
Robust collaborations worldwide
New resources for implementation being adopted and adapted by Affiliates
S07. Develop and execute a contributor engagement program
HL7 Standards Development Division (Dan Vreeman)
Contributor Engagement
The individuals of HL7's global community fuel our collective progress. We must inspire, expand, and engage with an ever-broader set of stakeholders to support development and implementation of HL7 standards.
We want to cultivate a diverse, equitable, and inclusive community where everyone can experience the deep satisfaction of contributing their unique perspective towards the common goal of interoperability. Participants in HL7's community do so of their own volition, so we must inspire, expand, and engage with an ever- broader set of people.
To foster this kind of community, we will:
Community Development
We will proactively engage in community development through strategies, planning, facilitation, and development of services to HL7 contributors that enhance personal satisfaction and impact.
Continuous Improvement
We will proactively identify, prioritize, and develop mitigation strategies for the key causes of HL7 contributor frustration.
HL7 Informatics Internship
We will grow the HL7 internship program with the vision of building the workforce, increasing awareness and competence in standards, and helping HL7 advance key priorities with focused support.
Intrinsic Motivations
We will cultivate opportunities for HL7 participants to build on their internal motivations to pursue meaningful work. We want to foster an environment where working with others on the complex challenges in interoperability enables you to grow as individuals towards a common purpose.
Anticipated Outcomes
Improvements on community development metrics, such as: perceptions of HL7's responsiveness, inclusiveness and cohesiveness of the community, perceptions of opportunities for personal growth, evidence of new participation
Increased HL7 membership retention
Post-internship participation and leadership within the community
S08. Extend our portfolio of standards advancement projects through external funding
HL7 Standards Development Division (Dan Vreeman)
Standards Advancement Through External Funding
We will continue delivering on our existing funded portfolio, while cultivating and expanding externally funded activities through grants, contracts, and cooperative agreements.
HL7's external funding portfolio (e.g. grants, contracts, cooperative agreements) provides substantial opportunities to advance our standards. Such sponsored projects provide support for standards advancement, core infrastructure development, process improvement, pilot testing, and dissemination. We will continue to execute on and extend our externally funded projects as a complement to other revenue sources.
Cooperative Agreement
Closing the Gap between Standards Development and Implementation – Maturing the C-CDA and FHIR Standards
Programmatic Areas
Improve infrastructure supporting FHIR development
Provide technical and administrative support for publication of FHIR
Develop/support testing platform of FHIR compliant systems
C-CDA implementation improvement and consistency
Awards from Office of the National Coordinator for Health Information Technology:

#90AX0019/01-06

#90AX0035/01-00
Cooperative Agreement
Public Health Emergency Response Related HL7® Standards, Solutions and Future Pandemics
Programmatic Areas
Expand clinical domains supported by HL7 standards
Improve privacy, security of health information
Advance use of HL7 FHIR Bulk Data Access IG standard
Develop, advance, and harmonize SDOH standards
Advance public health standards
Award from Office of the National Coordinator for Health Information Technology:

#90C30007
Contract
COVID-19 support for Accelerating Standards Development for the US Realm
Programmatic Areas
Monitor, manage, and track US Realm standards development.
Develop and enforce governance policies for US Realm standards development.
Facilitate stakeholder outreach to coordinate standards development and implementation activities in the US Realm.
Support development, balloting, and publication of the US Core FHIR IG and C-CDA standard.
Award from Office of the National Coordinator for Health Information Technology:

#75P00120C00078
Anticipated Outcomes
Continued success in accomplishing HL7 key initiatives with external support
Sustainable financial management of projects funded through external support
Increased collaboration with funding organizations whose objectives align with HL7's mission
S09. Modernize our web platform
HL7 Standards Development Division (Dan Vreeman)
Modern Web Platform
The current hl7.org web platform and associated applications are cumbersome, difficult to maintain, and fail to convey that HL7 is at the leading edge of health IT innovation. We need to revamp and re-imagine our web platform on a modern, open-source content management system.
As the next major initiative in HL7's technology roadmap, we will revamp and re-imagine our web platform on WordPress – a modern, open-source content management platform that powers more than 40% of sites across the web.
Our modernization approach will enable several key advances:
Open
Building on an open platform founded on software freedom, and supported by a global community of developers.
Content Presentation
Combining simplicity for users and publishers with powerful behind-the-scenes components for developers and limitless options for presenting the content to the world.
Modular and Flexible
Designed to be future-friendly, with separation between core and modular components and a vast ecosystem of plugins for additional features.
Standards-based
Full support for W3C standards that make the site work in today's browsers and those of tomorrow.
APIs
Backend power through both WordPress APIs for plugins to extend its feature set, and a REST API for interconnecting with our other services.
Optimized
Strong baseline optimization for search engines and a complementary focus on accessibility for humans helps ensure that our material is available to the global community.
Anticipated Outcomes
Better community experience and ease of onboarding from "what's HL7 about?" to understanding, accessing, and using our standards, and to active contribution in the HL7 community
API-enabled updates to our public standards portfolio that are integrated our internal standards development lifecycle infrastructure (e.g. JIRA) and publication pipeline (e.g. registry.fhir.org)
Improved accessibility, performance, security, findability, and reusability of web content
S10. Continue HL7's "flywheel" activities that perpetuate our momentum
HL7 Operations Division (Mark McDougall) + Standards Development Division (Dan Vreeman)
Core "Flywheel" Activities
HL7's core activities serve as the organizational circulatory system that sustains our vital momentum. Although not directly addressed in the recommendations, we include them here with an approach more towards monitoring and optimization than wholesale new strategies.
The momentum that propels us forward is sustained by core activities that have the "Flywheel effect" support, connect, and grow our community. We will continue to monitor and improve these services to help advance our mission.
Core Standards Development Services
Infrastructure
Collaboration
Development and testing
Balloting and publishing
Personnel
Product leadership and support
Support for standards development, balloting, and publishing
Events
Working Group Meetings
Connectathons
Special feature and co-sponsored events
Core Operational Services
Accounting and Finance
Education
Events Management
Human Resources
IT Operations
Legal
Marketing and communications
Member Services
Anticipated Outcomes
HL7 continues and optimizes its core business process of standards development supported by infrastructure, personnel, and events
HL7 continues and optimizes its core operational services